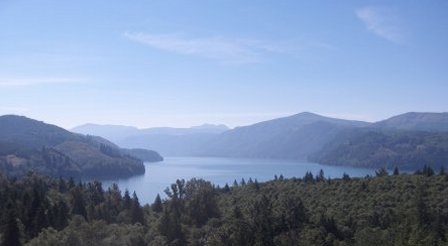 Nearby Riffe Lake is only minutes from our Washington nursery location.
SHIPPING & HANDLING
At this time we no longer ship 3rd party, outside Washington State, on orders less than $1000 U.S. Please call us for additional questions regarding logistics. Thank You!
---
INSURANCE
While PPGN warranties products as discussed in Article 6 (six), Warranties, of it's "General Terms and Conditions," Park Place Gardens Nursery DOES NOT guarantee or insure plant materials shipped by outside carriers.
---
PARK PLACE GARDENS OFFERS FREE DELIVERY ON ORDERS OF $1000.00 OR MORE WITHIN 25 MILES OF ONALASKA, WA.
ON ORDERS UNDER $1000.00, A MINIMUM CHARGE OF $100.00 PER SHIPMENT, DEPENDING ON DISTANCE, WILL BE ADDED TO THE ORDER ON SHIP TO ADDRESSES FROM 26 TO 100 MILES OF ONALASKA, WA.
ORDERS BEYOND 100 MILES, PLEASE REFER TO PPGN "SHIPPING & HANDLING."
PPGN DOES NOT SHIP OUTSIDE THE U.S OR OVERSEAS.
---
GENERAL TERMS AND CONDITIONS
PRICES: All prices in this catalog are intended for the wholesale trade. The pricing in this catalog, per posted catalog date, cancels all previous quotations. Our prices are based on present market conditions and are subject to change without notice. All transactions are to be in "U.S. Dollars." Prices are f.o.b. Onalaska, Washington.

PAYMENT: Orders must be payable in full prior to shipment. Long distance orders, those from over 100 miles of Onalaska, WA, can only be payable by money order, excepting special arrangements by PPGN. All orders, whether by check, cash or money order, should be payable to:

" Park Place Gardens Nursery "

A PENALTY OF $25.00 U.S. (DOLLARS) WILL BE CHARGED FOR EACH TRANSACTION / INVOICE WITH RETURNED, INSUFFICIENT FUNDED CHECKS WRITTEN TO PARK PLACE GARDENS NURSERY. ADDITIONALLY, AGGRESSIVE LEGAL AND LAW ENFORCEMENT MEASURES WILL TAKE PLACE BETWEEN PPGN AND BAD CHECK WRITTERS. WE WILL PROSECUTE TO THE FULL EXTENT OF THE LAW. ADDITIONALLY, SUCH ACTIVITY COULD PREVENT ANY FUTURE PURCHASES WITH PPGN.

Check refunds will be delayed for a period of the standard and accepted business practice of 10 (TEN) business days, once the original payment has been deposited.

ORDERS: Must be received at our sales and marketing office:


Park Place Gardens Nursery (PPGN)
139 Kidd Creek Lane
Onalaska, WA 98570




Park Place Gardens Nursery is licensed in the State of Washington as a wholesale nursery, however we do offer our inventory, retail, via the internet.

Wholesale on-line, over 100 mile "ship to" addressed, orders require a minimum order of $75.00 per order of plant material.

If we find your selection is not appropriate to your area climate, we will not ship your order until a Suitable Plant Materials Waiver

is signed. Our goal is complete customer satisfaction. We want our plants to thrive in your area. We will only recommend those plants that are adaptable to your area climate. For example, we would not recommend an Acer Saccharum(Sugar Maple), ideal for Minneapolis, MN, to an area like Phoenix, AZ.

Once the product is delivered and accepted by the Buyer, either in writing or verbally, the sale is considered final.

PLANT QUALITY: PPGN plants are state inspected and shipped to the Buyer healthy. The Buyer is responsible for growing conditions, climate and care of plant material once received. Errors in plant names, plant types, quantities and "ship to" address will be handled immediately. Please notify us within 10 days of receipt and we will make every effort to rectify the order.

TAXES: Any taxes arising from the purchase, use or resale of the goods, such as sales tax, or any other local tax, is the responsibility of the Buyer. On retail or taxed wholesale orders within Washington State, the tax is calculated on local "Ship To" addresses. Sales tax may not apply to some out of state "Ship To" addresses.

GENERAL WARRANTIES: Park Place Gardens Nursery exercises great care to deliver quality, disease-free, nursery stock. Warranties apply only to plants that arrive dead from shipper and at the time they are received. Once the product is delivered and accepted by the Buyer, either in writing or verbally, the sale is considered final. We give no guarantee, expressed or implied, as to the life, description, quality, productiveness or any other matter of any nursery stock that we sell. It is mutually agreed that our total liability for any error, should stock prove untrue to name as labeled, shall be limited upon satisfactory proof, to our replacing free or refunding the purchase price thereof. We accept all orders subject to crop conditions, errors in counts, and with the understanding that the same shall be void should injury befall the stock because of hail, fire, frost or other causes beyond our control. It is further agreed that if Park Place Gardens Nursery cannot supply the size or quantity the Buyer ordered, Park Place Gardens Nursery reserves the right to supply the closest quantity of size or grade at the corresponding price.

A. Warranties of Landscape Project Plants: A paid invoice or receipt will be required for all warrant transactions, between the Seller, Park Place Gardens Nursery (PPGN), and the Buyer, the named company or represented person of the transaction. A warranty of 60 days, from the date of project completion, will be applied to plants installed by Park Place Gardens Nursery (PPGN) only. PPGN will replace dead and/or sick plants of equal value, at no additional charge during this period, with no guarantee of size or species. Under this agreement, installation of plants and additional materials are not included with this warranty. Beyond 60 days returned plants will be valued at one half the value of the sold price, for a period of 1 year. There is no warranty beyond 1 year from the final date of installation. Overriding circumstances of obvious plant neglect and/or misuse, which causes the death of a plant, will immediately void all warranties.

B. Warranties of Retail Plants: A paid invoice or receipt will be required for all warrant transactions, between the Seller, Park Place Gardens Nursery (PPGN), and the Buyer, the named company or represented person of the transaction. A warranty of 30 days, from the date of purchase, will be applied on the return of dead and/or sick plants, with a full replacement of plants or a refund. There is no guarantee of size and/or species replacements. Beyond 30 days, returned plants will be valued at one half the value of the sold price, for a period of 1 year. There is no warranty beyond 1 year from the date of purchase. Overriding circumstances of obvious plant neglect and/or misuse, which causes the death of a plant, will immediately void all warranties.

CANCELLATIONS: Due to the perishable nature of nursery stock and because of the limited sales opportunities, we must ask that any cancellations or reductions be made in writing prior to December 1st. Also, orders for nursery stock canceled in whole or in part will be billed a 25% cancellation charge. Orders may not be canceled within 21 days prior to the scheduled shipping date.

CLAIMS: All claims must be made, in writing, within 7 (seven) days of receipt of material. All unsatisfactory or rejected goods must be held for our advice or disposition. Park Place Gardens Nursery will not consider any claim on nursery stock that has been processed, stored improperly, planted or modified. At no time will we be held responsible for more than the purchase price of material. Check refunds will be delayed for a period of the standard and accepted business practice of 10 (TEN) business days, once the original payment has been deposited.

AVAILABILITY: Availability of any individual species is not guaranteed. This particularly includes rare species. Please check our current availability by calling us at 360-623-0186 or send email to sales@ppgn.com. Plants not listed in on our availability list can be obtained when included with those plants currently available on your order.

SUBSTITUTIONS: When orders sometimes have to be substituted, we try to match the color selection and will sub with a variety of equal or greater value. PPGN will take into consideration any customer preferences with regards to substitutions. Should the Buyer not want substitutes with a plant of equal or greater value, please your request on the "special instructions" of the order form.

BACK ORDERS: There are situations where items are not available to ship on the date the Buyer requests to receive them. These items will be back ordered and shipped later, if possible. If delivery cannot be economically arranged we will contact the Buyer. Normal shipping and packaging cost will be invoiced.

RECEIVING & ACCEPTANCE: Nursery stock is perishable. All shipments should be immediately and carefully unpacked and inspected on arrival and then placed in proper storage. Any problems with the condition or quality or quantity of goods received should be brought to our attention immediately. Once the product is delivered and accepted by the Buyer, either in writing or verbally, the sale is considered final.

PRODUCT RETURN POLICY: All plants must be returned in the same condition as received by the Buyer on the original invoice. PPGN has the right to charge a 25% restocking fee on returned plants and landscaping materials. Non-nursery resale items, in resalable condition, will not be subject to a restocking fee. Returns will not be made on open bags or containers of chemicals and fertilizers. Additionally, all non-nursery resale items must be returned in the same condition as originally invoiced, with receipts or proof of purchase. Items returned as the result of customer misuse, damage and/or neglect will not be credited to the Buyer.

PRIVACY POLICY: Park Place Gardens Nursery holds the protecting of privacy of our customers to be the upmost of importance. To this end, our policy is simply this:

" All customer information, private or public, will never be sold or used by any unauthorized third party. "

PROMOTIONS AND PRICE REDUCTION SALES POLICY:All promotions and price reductions sales are subject to the "Sale Ends" date listed in PPGN's online product catalog and all sales literature. Below is listed the current sales campaign and "Sale Ends" date:

"CHRISTMAS SEASON 2010 - SUPER SALE" Sale Ends December 23, 2010
"2011 AUGUST LAZY DAYS OF SUMMER TREE AND SHRUB SALE" Sale Ends August 31, 2011
"2011 FALL TREE AND SHRUB SALE" Sale Ends October 31, 2011
"2011 LIVING CHRISTMAS TREE SALE" Sale Ends December 20, 2011
"2014 Big Tree Memorial Day Sale" Sale Ends May 31, 2014
---
QD - TBA
---
REBATES
Landscapers and other commercial users of plants, will receive the following rebates applied to orders on returned, used nursery pots, in good condition:
$1.55 on 15 Gallon
$1.36 on 10 Gallon
$ .97 on 7 Gallon
$1.00 on 5 Gallon
$ .32 on 3 Gallon
$ .21 on 2 Gallon
$ .11 on 1 Gallon
$ .06 on 5" Growing Pot
$ .02 on 4" Growing Pot
---
( Policy Date 06-25-2018 )
BACK TO THE TOP THIS PAGE
---
Return to:
PURCHASE ORDER FORM
ppgn.com Opening Page
Plant List

Email: sales@ppgn.com